My love for salmon and fresh buttermilk waffles has finally come together! These Hot Honey Salmon with Cajun Buttermilk Waffles are the perfect combo of sweet and spicy and buttery and fluffy. This dish is the perfect addition to a weekend brunch if you are looking for a change or simply a salmon and waffle lover. If you are a seafood lover, check out my Cassava Corn Waffles with Shrimp Creole. Here is what you will need:
Hot Honey – The star of the show. Its glazed over the salmon during the cooking process and also used as a syrup on the waffles. It's super easy and quick to make. My recipe below is semi mild in my opinion but I like my food super spicy, so add the peppers as you go and taste every step of the way. All you need is a bottle of honey, 2 jalapenos, red pepper flakes and your favorite hot sauce. Let simmer and let cool before storing it in an air tight container and store in the fridge.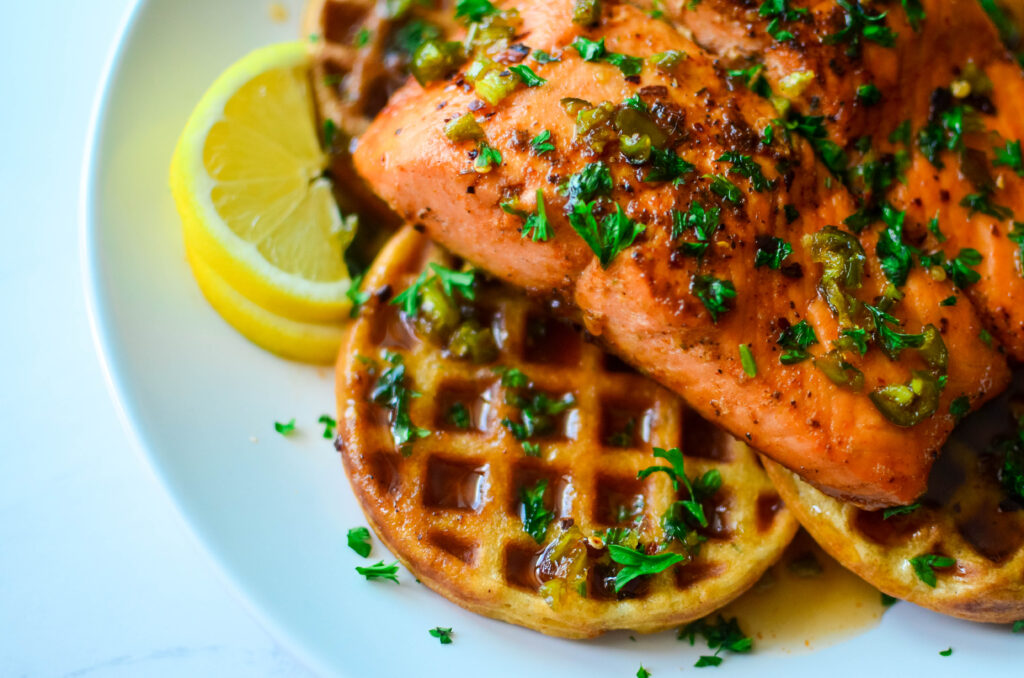 Wild Caught Salmon– As always you can use fresh or frozen salmon. Marinate and season the salmon prior to cooking . When cooked on both sides, glaze the warm hot honey on both sides allow it to caramelize a bit. For an extra touch of color you can put it under the broiler for a minute or two.
Buttermilk and Eggs– Though you can use regular milk. Buttermilk brings in all that rich flavor that balance everything out in these waffles. Eggs of course holds it all together.
Old Bay Seasoning and Creole Seasoning- To marry the salmon and waffles together, I seasoned the salmon and the waffle batter with these two seasonings. 1 teaspoon of each will give you a subtle flavor in the waffles but season to your liking. I also added Trader Joe's Onion Salt to the batter which give the waffles a delicious onion and garlic kick.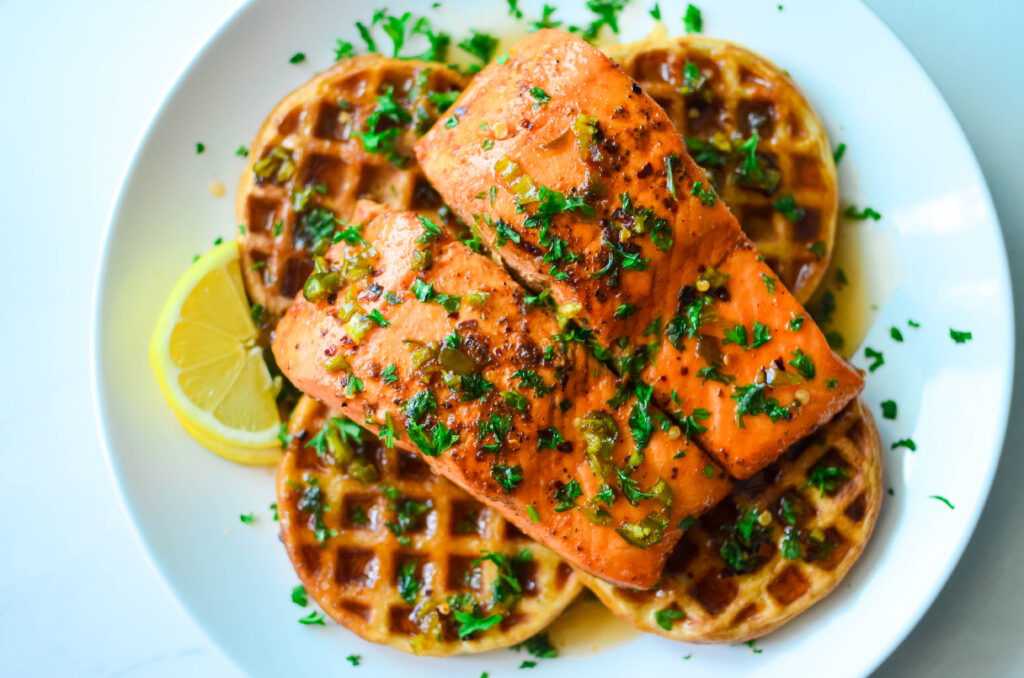 Baking Soda- Standard waffles often use both baking soda and baking powder for the fluffiness, but I only had baking soda on hand. Luckily buttermilk with baking soda help creates a bit of fluffiness , so it works!
Check out the recipe below:
Hot Honey Salmon with Cajun Buttermilk Waffles
A spicy-sweet combo of Salmon and Cajun Buttermilk Waffles drizzled with Hot Honey
Ingredients
Cajun Buttermilk Waffles
1¾

cup

All-Purpose Flour

1¾

cup

Buttermilk

1

stick

Unsalted Butter

(melted)

2

Eggs

(beaten)

1

tsp

Baking soda

1

tsp

Onion/Garlic Salt

1

tsp

Old Bay Seasoning

1

tsp

Creole Seasoning

¼

tsp

Salt

Cooking Spray
Hot Honey Salmon
2

lbs

Wild Caught Salmon

(fresh or frozen)

1

Lemon

(juiced)

5

tbsp

Butter

1

tbsp

OldBay Seasoning

1

tbsp

Creole Seasoning

Black Pepper

(to taste)

No Salt Seasoning

(to taste)

Salt

(to taste)

12oz

Honey

2

Jalepeno

(diced)

1

tbsp

Hot sauce

2

tbsp

Red Pepper Flakes
Instructions
Cajun Buttermilk Waffles
Melt the stick of butter and set it aside to cool.

In a large mix bowl, add the sifted flour, salt, baking soda, Old Bay seasoning, Onion Salt, and Creole seasoning.

In a medium-size bowl, beat the eggs and add the milk and melted butter. Combine into the flour mixture until evenly combined.

Preheat the waffle maker. Use the cooking spray of choice and cook the waffles.
Hot Honey Salmon
Rinse the salmon with water and pat dry. Squeeze the juice of a lemon, add black pepper and non salt seasoning and let marinate for about 10 minutes.

In a small pot add the honey and diced jalapeno on low heat and let simmer for 5 minutes. Add the Hot Sauce and Red Pepper Flakes, stir and let simmer on low.

Pat dry the salmon and season with Old Bay and Creole seasoning and salt. In a hot pan add butter and cook the salmon for 2- 3 minutes on each side.

Glazed some of the Hot Honey over the Salmon and let cook for about a minute each side, Glazing more honey as you go

Serve the salmon on top of the waffles, drizzle over the remaining honey.

Serve Immediately along with pancake or Maple syrup