This year Forksandstraws.com is participating in the 2020 Juneteenth Cookout Takeover! This initiative was established to encourage the celebration of Juneteenth and to amplify the food traditions of black culinary creatives.
Juneteenth (a merge of the words/date June Nineteenth) marks the date in 1865 that the last enslaved people learned of their freedom. And for over 150 years since, Black American families, home-cooks, chefs, and culinarians have commemorated the summer holiday with a wide range of food traditions that tell a story of the perseverance of a people.
To celebrate, Black Food Bloggers from around the country have come together to have a virtual cookout sharing our favorites recipes that highlights our food traditions and those of the African Diaspora.  Scroll down for the full list of featured recipes.
My contribution to the cookout is my Cassava Corn Waffles with Shrimp Creole recipe. This recipe came about because my love for Yuca and CornMeal is real!  So I came up with a recipe that ties in certain aspects of Southern brunch but also ties in a Caribbean aspect as well.
For me, Nothing says Southern brunch like Chicken and Waffles and Shrimp and Grits. But I like to introduce you to a new concept: Shrimp and Waffles. A combo that is not seen too often in the brunch world but it definitely should be. And I'm not talking about the usual lightly sweet confectioner waffles either, but a savory one. A waffle that's has a subtle tartness and pepperiness from the buttermilk and parmesan cheese enveloped in the Cassava and Corn Meal batter. Paired with a spicy and colorful take on the tomato-based New Orleans classic: Shrimp Creole with the addition of maple syrup to sweeten the deal. I'm drooling just thinking about it, seriously!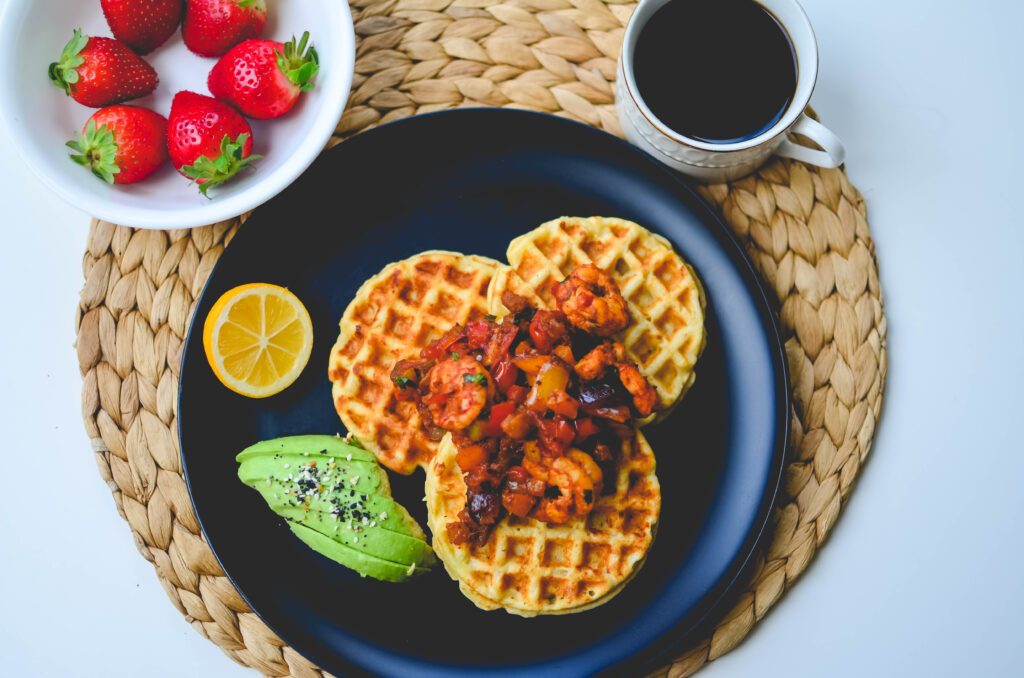 It's an interesting mix of flavors yet this dish consists of ingredients that are commonly found on a plate together for most Black, African and Caribbean meals:  Yuca, CornMeal, Tomatoes and Shrimp. These four ingredients alone guarantee some good cooking so you know these waffles are too! This recipe is easy to make, semi quick if you prepare ahead of time  and makes a great brunch option for your next at-home brunch or home entertainment event. The waffles also make a great meal prep for your weekday breakfast as well. I hope you enjoy it as much as I did. Also if you haven't done so: Check out Forksandstraws.com Youtube channel, this recipe is one of the recent "What I eat in a day" episodes. I hope you like it and subscribe!
Are you a seafood lover? Sitka Salmon Shares delivers individually portioned, blast-frozen, and vacuum sealed fish delivered to your door. Save $25 dollars on your first box using my discount code: ForksFish.
Check out the recipe below:
Cassava Corn Waffles with Shrimp Creole
Savory Cassava Corn Waffles topped with Spicy Shrimp. Drizzle a little bit of maple syrup for a sweet and savory dish or eat with a side of avocado. Either way, this gluten-free dish is sure to please your guest at your next brunch!
Ingredients
Cassava Corn Waffle Batter
2

cups

Cassava Flour

2

cups

Corn Flour or Fine Corn Meal

1

cup

Grated or Shaved Parmesan cheese

3

cups

Buttermilk

 8

tbsp

Butter

(Melted)

4

tsp

Baking powder

Pinch of

Salt

2

Eggs

(Whisked)

¼

tsp

No salt seasoning

(Add to your liking)

¼

tsp

Onion salt

(Add to your liking)

Cooking Spray
Shrimp Creole
½

pound

Wild caught Shrimp

Fresh or Frozen

½

Red Bell pepper

(diced)

½

Orange Bell Pepper

(diced)

1

cup

of Grape Tomatoes

(halved)

½

Red Onion

(diced)

3

stalks

of Celery

(diced)

3

Garlic cloves

(sliced)

1

tbsp

Tomato Paste

tsp

Cajun or Blackened Seasoning

(Add to your liking)

Pinch

of

Salt

¼

tsp

Black Pepper

(cracked)

¼

tsp

No Salt Seasoning

(Add to your liking)

¼

tsp

Onion Salt

(Add to your liking)

¼

tsp

Red Pepper Flakes

(Add to your liking)

Juice

of ½ a

Lemon

2

tbsp

Olive oil

2

tbsp

Butter

1

cup

Water

(use to your liking for the consistency you like)
Instructions
For the Waffles
For the Waffles. In a large mixing bowl combine the dry ingredients (Cassava Flour, Corn Flour, Parmesan Cheese, Baking powder, Salt, No Salt Seasoning and Onion Salt. Whisk till evenly combined.

In a small bowl, whisk the egg, buttermilk and cooled melted butter together. Once evenly mixed, add the mixture to the dry ingredients until it creates a thick batter that's not too lumpy. Wrapped with plastic and let sit in the fridge for 15minutes.

Heat your waffle iron, Spray both sides of the iron pan and add about 2-3 spoonfuls of batter to the middle of the iron but don't overcrowd the iron. Close the lid, and cook according to your waffle iron's instructions until golden brown. Keep the waffles warm in the oven, till ready to serve. Makes about 19, Four-inch waffles.
For the Shrimp:
Dice up the red and orange bell pepper, red onion, garlic, celery, and grape tomatoes and set aside. Peel and devein the shrimp or defrost your shrimp in a bowl of water. Run water over the shrimp to clean off any impurities and lay the shrimp on a plate and pat dry with a napkin.

Squeeze the juice of a half a lemon, add olive oil, salt, Blackened seasoning, your favorite no-salt seasoning, and onion salt to the shrimp. Flip the shrimp and season to your liking. Massage the seasoning to the shrimp and let marinate for 5-10 minutes.

In a hot medium-size skillet, add 2 tablespoons of olive oil and 2 tablespoons of butter. Add the shrimp one by one giving the shrimp enough space to cook evenly in the pan. Save the marinade for later. When the shrimp starts to get a pink color, Remove the shrimp and set aside in a small bowl.

In the same hot skillet add the diced bell pepper, onion, garlic, red onion, celery, and tomatoes, let cook till soft. Pour the marinade from earlier and let it cook down for about 2minutes. Add about a cup of water and a tablespoon of tomato paste and combine evenly.

As the sauce starts to thicken up add the shrimp back in and stir occasionally for about 2-3 minutes.

Serve immediately on top of the warm Cassava Corn waffles.

 
<iframe width="560″ height="315″ src="https://www.youtube.com/embed/TYXZdHPuqD4″ frameborder="0″ allow="accelerometer; autoplay; clipboard-write; encrypted-media; gyroscope; picture-in-picture" allowfullscreen></iframe>
Happy Cooking!
Check out these delicious Juneteeth Cookout inspired recipes below:
A Girl Called Adri | Blackened Catfish   
Beautiful Eats & Things | Spiced Grilled Peaches
Black Girls Who Brunch | Brown Butter Sweet Potato Cake   
Brazilian Kitchen Abroad | Brazilian Collard Greens with Bacon
Britney Breaks Bread    | Buttermilk Fried Chicken with Sour Cream and Honey Sauce
Brownbelle | Watermelon Hibiscus Whiskey Smash   
Butter Be Ready | Chicken and Waffles   
Chef and Steward | Watermelon and Feta Salad   
Chef Curl Ardee | Honey and Butter Cornbread   
Chenée Today | Lemon Icebox Pie   
Christy Irene | Crawfish Etoufee
Collards Are The Old Kale | Guaymas Shrimp   
Confessions of a clean foodie | Mint Peach Spritzer
Cooking to a T    Jamaican | Beef Patties   
Dash of Jazz | Golden Pineapple Pound Cake   
Dish It With Tisha | Honey Jerk Shrimp   
DMR Fine Foods | Blackberry Ginger Soda   
Domestic Dee | Easy Berry Fruit Salad   
Dude That Cookz | Cajun White Beans   
Erique Berry Co | Three Green Summer Salad   
Ethically Living | Vegan Jackfruit Jamaican Patties   
Food Fidelity | Nigerian Beef Suya Skewers
Food Is Love Made Edible | Smothered Okra with Chicken & Sausage   
FoodLoveTog | Braised Cabbage & Johnny cakes
Forks and Straws | Cassava Corn Waffles with Shrimp Creole   
Geo's Table | Curried Potato Salad   
Gristle & Gossip | Sweet Potato Honey Cornbread Cake
Heal Me Delicious | Trinidadian Callaloo   
Jamieson Diaries | Crockpot Smoked Red Beans   
Kenneth Temple | Red Velvet Biscuit with BBQ Brisket
Kenya Rae | Pork free baked beans   
Lenox Bakery | Sweet Potato Cheesecake
Maple Points | Peas & Rice – Guyanese Style   
Marisa Moore Nutrition | Fresh Peach Iced Tea
Meiko and the Dish | Strawberry Cornbread Skillet Cobbler   
Murielle Banackissa | Vegan Saka Saka (Congolese Cassava Leaf & Spinach Stew)   
My Fabulous Food | Black eye peas with smoked turkey
Nik Snacks | Easy BBQ Pork Ribs   
On Ty's Plate | Watermelon Limeade   
Open Invitation Entertainment | Coconut Collard Greens   
Orchids + Sweet Tea | The Ultimate Vegan Mac + Cheese
Our Perfect Palette | Jollof Rice
Peaches 2 Peaches | Vanilla Cake With Caramel Poached Pears   
Pink Owl Kitchen | Strawberry Buttermilk Biscuits   
Razzle Dazzle Life | Southern Peach Cobbler   
Rosalynn Daniels | Southern Tomato Pie   
Savor and Sage | Black-Eyed Pea Salad   
Savory Thoughts | Jus Citron (Haitian Lemonade)   
Seasoned To Taste | Cajun Shrimp Deviled Eggs   
Sense & Edibility | Blackberry Cobbler   
Slice & Torte | Fried Softshell Crab   
Slight Kitchen Werk | Roasted Sweet Potato Salad   
Sweet & Sorrel | Baked Jerk Chicken   
Sweet Savant | Black Eyed Peas and Sweet Potato Salad   
That Green Lyfe | Vegan Red Red Stew (Spicy Ghanaian Black-Eyed Peas) and Plantain   
The Dana Renee Way | Sweet Potato Cornbread   
The Hangry Woman | Jamaican Jerk Wings   
The Hungry Hutch | Southern-Style Sweet Tea   
The Kitchenista Diaries | Grilled Lemon Pepper Wings   
The Vgn Way | Juneteenth Hibiscus Strawberry Vegan Ice Cream
This Worthey Life | Strawberry Soda   
This African Cooks | Ghanaian kebabs Whole30 style
Vegan With Curves | Slow Cooker Black Eyed Pea Sweet Potato Soup