The best feeling in the world is when you create something and it turns out to be 10 times better than you thought it would. This past week I made Apple Cinnamon Crumble Oat Bars with a Vanilla Cream Cheese Glaze made with the basics that was in my fridge and pantry.  The inspiration came when I noticed my bag of apples was going bad leaving me with 2 apples to last a week. With the need for social distancing, I'm trying my best to stretch my groceries as much as possible so I decided to bake the apples and improvise with what I had and jazzed things up a bit with a cream cheese glaze.
I referred to my Raspberry Chia Jam Oat Breakfast bars recipe for inspiration and tweaked a majority of the recipe and surprisingly it came out better than I thought it would.   The recipe below is the proper way of making these bars, but if you're in a pinch like I was, these are the alternatives I made that might be useful:
Coconut sugar in place of brown sugar
Coconut Oil and Olive Oil in place of butter for the bars (I did a mix of both because I was low on both)
Self Rising flour in place of All-purpose flour and baking powder.
Blended Turbinado Sugar in place of Confectionary Sugar (I used the flour option on my blender to get a powdered texture.)
Whipped cream cheese instead of block cream cheese. (Used 3 spoonfuls to make a mini-batch of glaze in the blender.)
Despite all these alternatives, the bars came out decadently sweet, stored well and lasted the week.  Check out the recipe below: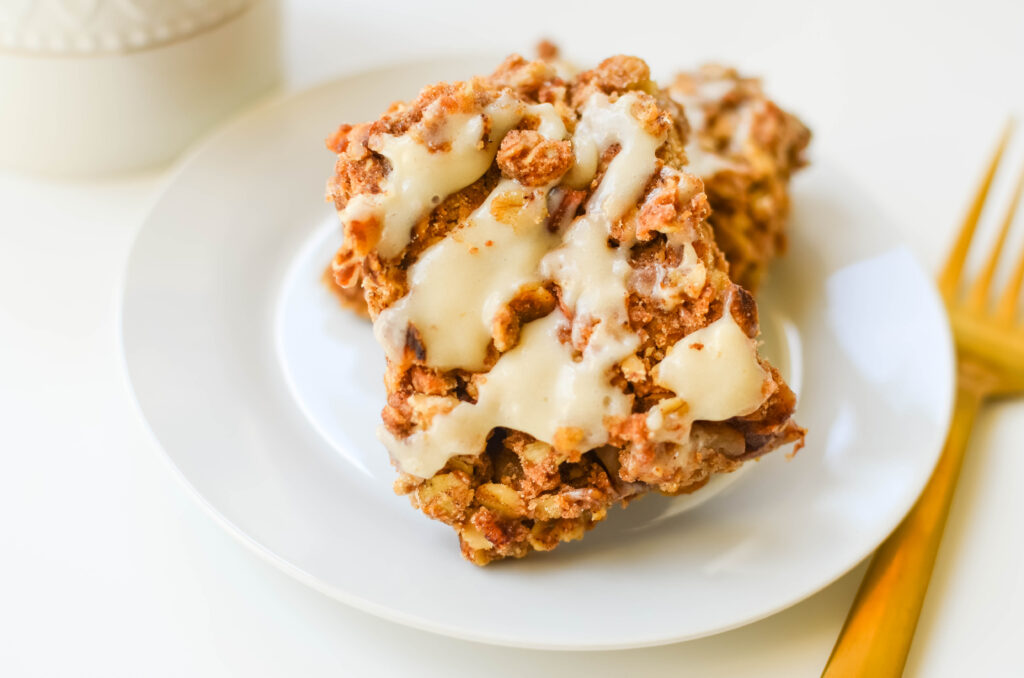 Apple Cinnamon Oat Crumble Bars with Vanilla Cream Cheese Glaze
Apples, Cinnamon and Oats meet Sweet Vanilla Cream Cheese Icing in this super easy recipe that is perfect for breakfast or dessert.
Ingredients
Apple Oat Bars
2- 3

Apples

thinly sliced

1¼

cups

Coconut sugar

1

tbsp

Cornstarch

2

tbsp

Cinnamon

1

tbsp

Pumpkin Pie Spice

2

cups

Self-rising flour

2

cups

Old-fashioned Oats

½

tsp

Salt

¾

cups

Butter

melted

1

tbsp

Vanilla extract
Cream Cheese Glaze
¼

cup

Creams cheese

room temperature

¼

cup

Confectioner sugar

¼

cup

Butter

room temperature

4

tbsp

Milk

1

teaspoon

Vanilla Extract
Instructions
Apple Oat Bars
 Slice the apples thinly and remove the core and seeds. 

In a large mixing bowl add the apple slices 2 tablespoons of coconut sugar, cornstarch, and 1 tablespoon of cinnamon. Set aside.

Preheat oven to 350 degrees

In another bowl, combine flour, oats, pumpkin pie spice, 1 tablespoon of cinnamon, coconut sugar, self-rising flour, vanilla extract, and butter. Mix until it becomes crumbly in texture.

Line a square baking dish with parchment paper and pour 1/2o f the oats mixture in the bottom of the pan, pressing firmly to make an even layer of crust.

Pour apples over the crust and spread evenly. Pour the remaining oat mixture over the top and press down gently.

Bake for 30 minutes, or until golden brown. Cool completely before slicing.
Cream Cheese Glaze
In a medium bowl blend the cream cheese, butter, vanilla extract, and sugar together till it appears fluffy

Add the milk one tablespoon at a time until you get the glaze consistency that you like.

Drizzle over the completely cooled oat bar, Let set in the fridge for about 10 minutes before serving
Happy Eating!