Is it me? Or does it seem like the summer months are zooming by? It literally feels like its still March, at least in my mind it does. But it's mid-July and that means in another month or so we will be in Fall.  So this past weekend I decided to throw my annual but not so annual backyard picnic for me and my family. Backyard picnics mean charcuterie board to me so I definitely knew that was on the menu. I took a vote on what the entree and cocktail should be and it was a unanimous vote for lobster rolls and Pink Lemonade Rose cocktails. Added my favorite bagged salad mix as a side to take the guesswork out and the menu was all set.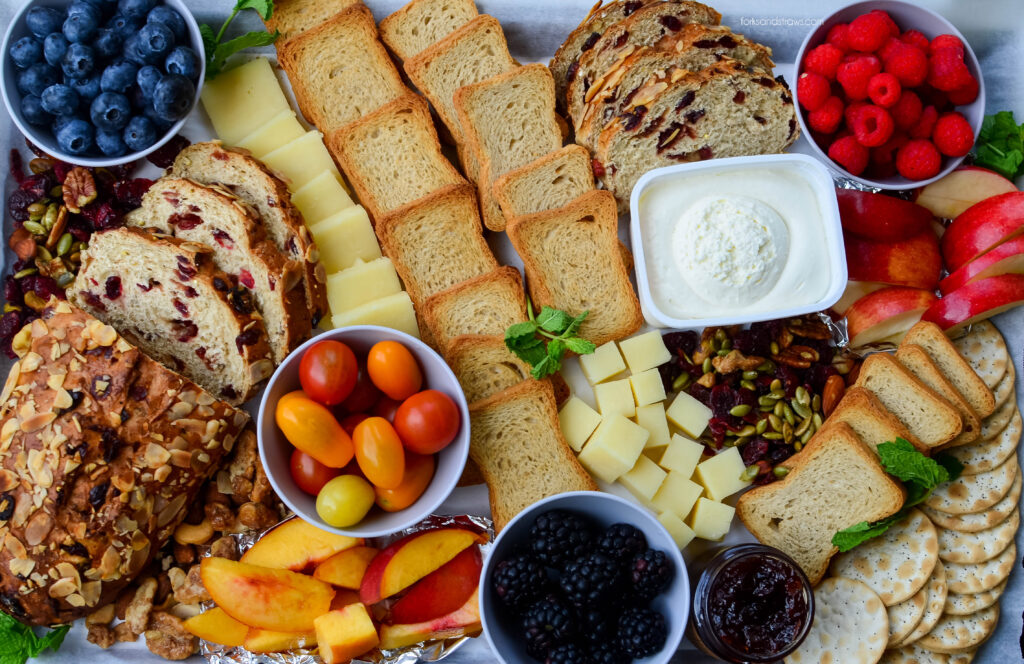 For the charcuterie board, I bought in-season fruits to keep cost down and used an artisan muesli bread from our local grocery as the star of the show. Once everything was washed and sliced the board came together in about 10 minutes. If you want to transport this outside of your home to a park I would suggest that you cut everything beforehand, wrapped them up in Tupper-ware and zip lock bags, and set it up when you arrive. Or bring a mini cutting board to slice and dice the bread, cheese, and fruit on site.  Add your favorite cheese, nuts, and seeds to fill the board and you are good to go!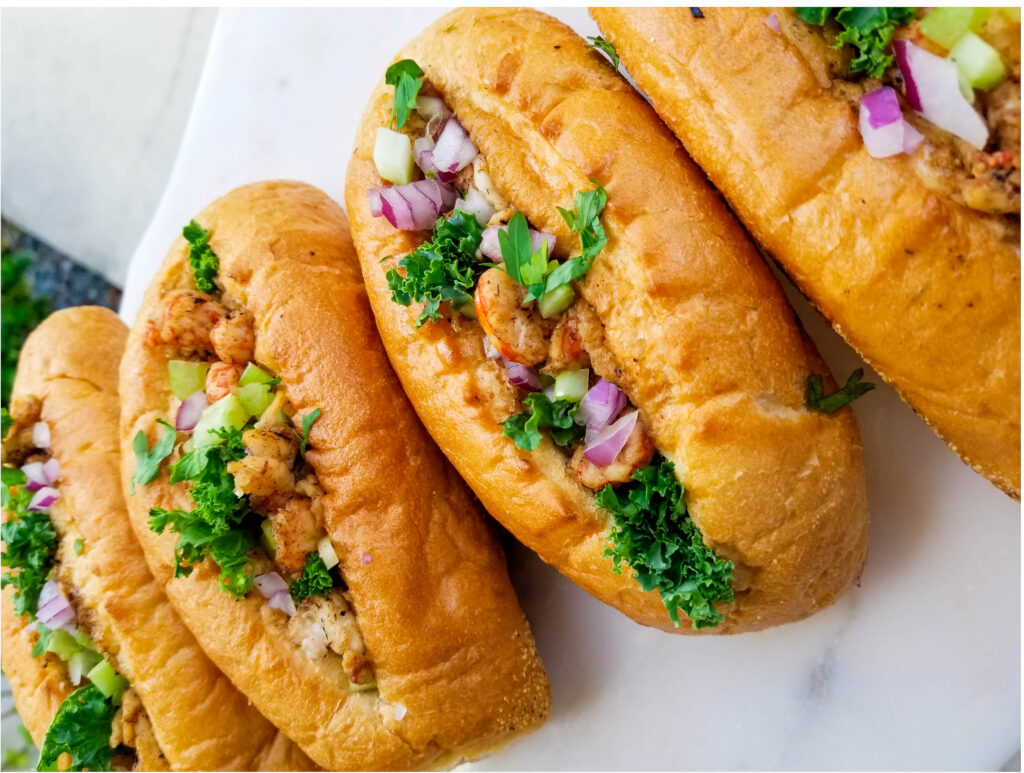 Now onto the lobster rolls, they came together really quick since we use pre-cooked langostino lobster but if you are feeling adventurous and can handle live lobster, go for it! I wanted to make a Connecticut-style lobster roll since I'm not much of a mayo person but I also wanted to season it up a bit while not taking away from the lobster. So once the butter started caramelizing, I added one-fourth of a teaspoon of old bay and citrus dill seasoning. Tossed the langostino lobster in the seasoned brown butter and then spooned the lobster into the spilt top bun that's been stuffed with fresh kale and topped it off with diced celery and red onions and a squeeze of lemon.
Are you a seafood lover? Sitka Salmon Shares delivers individually portioned, blast-frozen, and vacuum-sealed fish delivered to your door. Save $25 dollars on your first box using my discount code: ForksFish.
Check out the recipe below: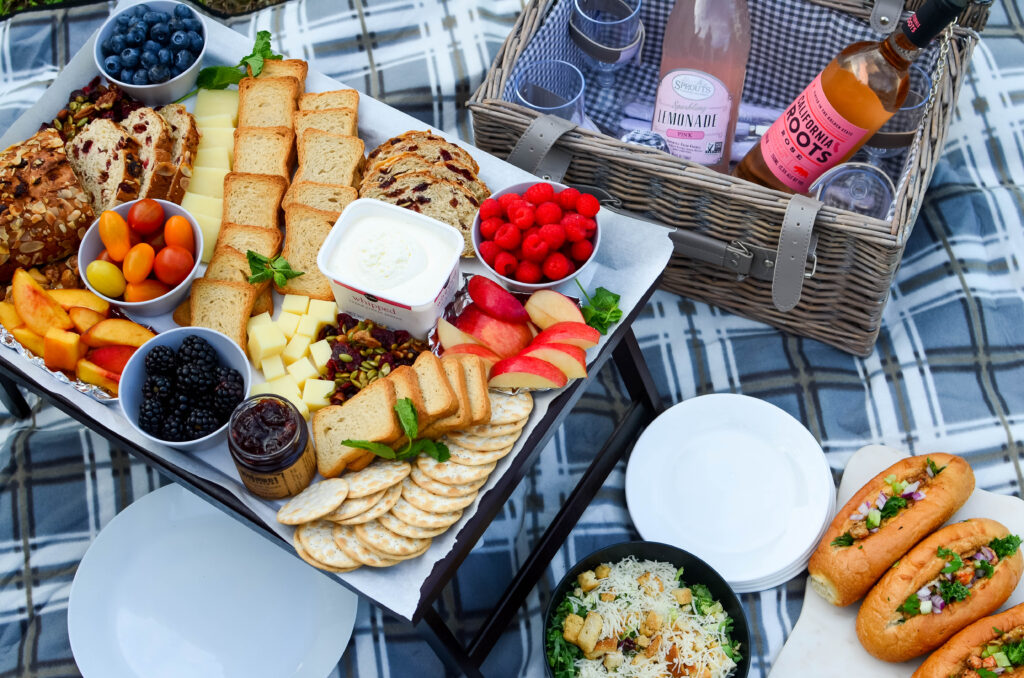 Fruit, Nuts and Muesli Toast Charcuterie board with Brown Butter Langostino Lobster Rolls
The perfect pairing for a backyard summer picnic menu , A Fruit, Nut and Muesli Toast charcuterie board with Brown Butter Langostino Lobster Rolls. Ready in less than an hour.
Ingredients
Fruit, Nuts and Muesli Toast Charcuterie board
1

large

Apple

sliced

1

large

Peach or Nectarine

sliced

1

block

Sharp White Vermont Cheese

sliced and cubed

1

box

Mini toast

½

box

Table Water Crackers

1

small crate

Blueberries

1

small crate

Raspberries

1

small crate

Blackberries

½

crate

Grape tomatoes

1

mini jar

of your favorite preserve or jelly

1

8oz tub

Whipped cream cheese

1

cup

Your Favorite Nuts and Seeds

1

loaf

Muesli bread

(Fruit and seeds loaf will work as well)
Brown Butter Langostino Lobster Rolls
8

oz

Langostino lobster

(pre-cooked)

5

tbsp

Unsalted butter

(melted)

¼

tsp

Old Bay Seasoning

¼

tsp

citrus dill seasoning

1

tbsp

celery

diced

1

tbsp

red onion

diced

4

Split-top open buns

½

cup

Kale

Salt
Instructions
Fruit, Nuts and Muesli Toast Charcuterie board
Wash the blueberries, raspberries, blackberries, peach, apple, and tomatoes, and pat dry. Set aside

Slice half of the block of the cheese into thick square slices, while cutting the other half in mini cubes. Set aside

Slice the peach and apple in thick slices. Set aside.

Slice a few thick slices of your loaf of bread and set aside.

Measure out a sheet of foil paper and parchment paper to the size of the board you are using. Lay the foil first and then lay the parchment. Measure out 2 small pieces of foil to use later for the peach and apple

Fill up mini bowls with the berries and tomatoes and place them on the board.

Arrange the mini toast around the bowls to go across the board diagonally a  few times.

Add the sliced cheese to go across the around board diagonally. Arrange the cubed cheeses as a cluster.

Place the bread on the edge of the board, at an angle arranging a few slices around the board.

Place the preserve and cream cheese tub on the  board and add the crackers

Find an opening on the board and create a little boat with the little square of foil paper and place the apple on one sheet and the peach on the other. This way the juices won't seep to the toast and bread.

Add the nuts in any little pocket that empty, along the board or in a cluster.
Brown Butter Langostino Lobster Rolls
Defrost the frozen pre-cooked langostino lobster, Rinse and pat dry.

In a small fry pan on low heat melt 1tbsp of butter and toast the sides of the rolls and set aside.

Add 4 tbsp of butter to the pan and whisk the butter around so that it evenly melts.

When the butter starts to foams and caramelizes to a brownish color add the old bay and dill seasoning, salt and stir.

Quickly add the lobster in the pan and toss the lobster in the seasoned brown butter for about 30 seconds before removing off the heat and transfer to a bowl so that it stops the cooking process.

Split the bread in the middle of it doesn't come pre-cut, pour a spoonful of the brown butter, layer in the kale first. Add the lobster and sprinkle over the onion and celery. Top with more butter and a squeeze of lemon. Serve immediately
Happy Eating!