I've been craving cauliflower wings for some time now and with this quarantine and social distancing happening, going out to a restaurant is the last thing I want to do. So I decided to make my own. Instead of making my General Tso Cauliflower wings, I decided to make Lemon Pepper Spicy Honey Butter Cauliflower Wings. This was an ambitious attempt but it came out great and was pretty simple to do.
Before we go into the details of this recipe, I want to start off by stating this recipe is a recipe of favorites. Especially when it comes to the Spicy Honey Butter. Hot sauce and honey are two ingredients that come with personal preference, so use what you like or have on hand.
A few tips on how to make the Spicy Honey Butter your own :
Use your personal favorite Hot Sauce
Favorite Quality Honey
Great Quality Butter.
How to make vegan/plant-based friendly:
Use your favorite agave nectar or maple syrup in place of honey.
Use vegan butter.
Use your favorite plant-based milk in replace of buttermilk. Or make vegan buttermilk by adding 1 tbsp lemon juice or vinegar to a cup of plant-based milk.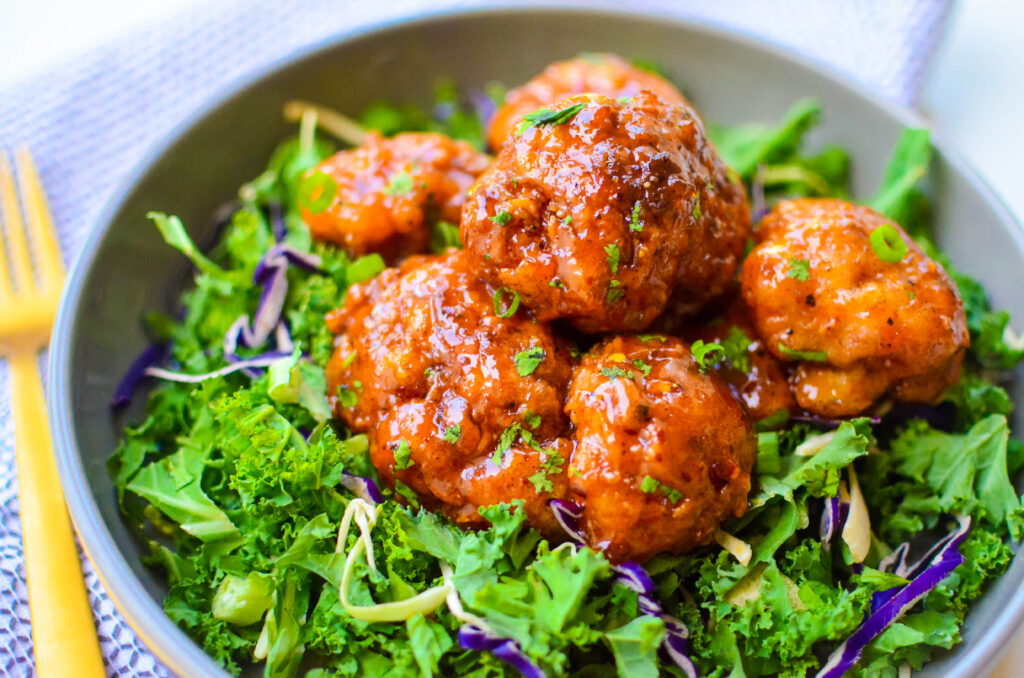 Seasoning the cauliflower: The seasoning is lemon pepper focused but I personally like my lemon pepper flavored with lots of flavor. You can make it as simple as using strictly lemon pepper seasoning, lemon juice, zest, and black pepper if that's what you prefer. As far as the onion salt goes, I use Trader joes seasoning and their onion salt is more of a combo of garlic, onion, scallion and chives. So if you plan on adding "onion salt"  but only have garlic powder or onion powder on hand, use both.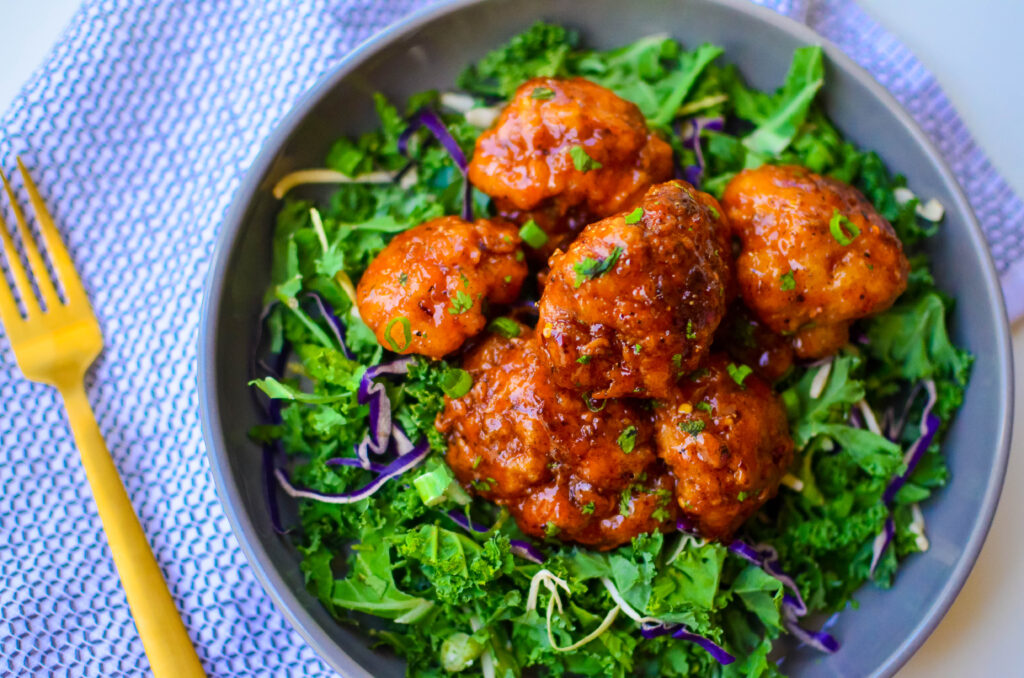 Making the Spicy Honey Butter
I wanted a spicy honey butter that was even parts hot sauce and honey. This isn't the conventional way of doing it but it came out thick and sticky just the way I like it, with no need for a thickener. If you prefer a runnier less sticky sauce, use less honey. If you want a subtle spicy sauce use a few tablespoons of hot sauce instead. 
I'm Haitian so I've grown up on scotch bonnet peppers, so my choice of hot sauce was a scotch bonnet pepper sauce. It brought out the spiciness I wanted but it didn't give me that "zing". So I added soy sauce and Worcestershire to get that umami flavor and it really brought it all together. This step is optional but if you have either on hand and want to add it: gradually add it instead of pouring the whole tablespoon in at once. A little goes a long way and you can always add more but you can't take away.
Storing your Spicy Honey Butter
If you so happen to have additional spicy honey butter left (the recipe makes about 8 ounces), let it cool and store in the fridge and use it as a glaze on other dishes. I've cooked my salmon, veggies and even my breakfast veggie patties with this and the caramelization and spiciness it gives to my meals is out of this world. A spoonful or two is all you need on low heat to melt the honey back to a glaze.
Also if you want to make a smaller quantity of the Spicy Honey Butter for a smaller amount of cauliflower cut the recipe by half. Depending on the size of the cauliflower bites, this recipe can make about 5-6 servings.
Check out the recipe below:
Lemon Pepper Spicy Honey Butter Cauliflower Wings
Sticky sweet, spicy and tangy is what comes to mind when you bite into these fried Cauliflower Wings tossed in a Lemon Pepper Spicy Honey Butter.
Ingredients
Wet Batter
2

heads

Cauliflower or 2 bags of cut Cauliflower

2

cups

Flour

¼

cup

Cornstarch

2½

cups

Buttermilk or Almond milk

1

tbsp

21 seasoning salute (No-salt seasoning)

1

tbsp

Onion salt

1

tbsp

Seasoning salt

(optional)

1½

tbsp

Lemon Pepper Seasoning

1

tbsp

Cayenne Pepper

Salt and Pepper

(to taste)
Dry Dredge
2

cups

Flour

¼

cup

Cornstarch

1

tbsp

Paprika

1½

tbsp

Lemon Pepper Seasoning

1

tbsp

21 Seasoning Salute (No salt seasoning)

1

tbsp

Onion Salt

Salt and Pepper

(to taste)

Enough

Oil for deep frying
Lemon Pepper Spicy Honey Butter
6½

tbsp

Butter

1

cup

Hot Sauce

1

cup

Honey

1-2

tbsp

Lemon pepper seasoning

1

Lemon

(juiced and zest)

1

tsp

Black pepper

1

tbsp

Soy Sauce

(optional)

1

tbsp

Worcestershire Sauce

(optional)

1

tbsp

Paprika

(optional)

½

tbsp

21 Season Salute (No Salt Seasoning)

(optional)

½

tbsp

Onion Salt

(optional)

½

tbsp

Red Pepper Flakes

(optional)
Instructions
Lemon Pepper Cauliflower wings
If you are using a head of cauliflower, remove the base and cut the cauliflower into stems or chunks. Rinse the cauliflower and pat dry.

In a large bowl add the ingredients for the wet batter. Add the flour, cornstarch, buttermilk, no-salt seasoning, seasoning salt, onion salt, cayenne pepper, lemon pepper seasoning and salt. Stir all together and soak the cauliflower pieces. Soak for 30 minutes minimum in the fridge covered.

In a second large bowl add the dry ingredients. Add the flour, cornstarch, no-salt seasoning, onion salt, paprika and lemon pepper seasoning. Stir till evenly combined. Set aside till you are ready to fry.

When ready to fry, Pour and heat the oil in a deep medium-size pot. Take the battered cauliflower and drop in the dry ingredients and coat it until its fully coated. Shake the excess flour and fry till golden. Test the oil with one cauliflower first to see if the oil is hot enough

Let Cauliflower rest on a paper towel. Till you are ready to coat in the Spicy Honey Butter.
Spicy Honey Butter
Warm up a small frying pan on low heat. Melt the butter. When fully melted add the honey and stir till combined. Let simmer for a minute, then add the hot sauce of your choice. Stir and combine.

Add the juice and zest of a lemon, black pepper and lemon pepper seasoning. Stir and simmer for a minute. Taste if its to your liking, you can stop right here and let it thicken up a bit. If you want an umami flavor add the paprika, soy sauce and Worcestershire sauce. Stir and let simmer for about 2 minutes.

Taste to see if it's to your liking. Add more seasoning if you need to and let simmer till the sauce thickens up. When ready toss the cauliflower in the spicy honey butter until evenly coated. Place on a serving tray and enjoy.
Happy Cooking!