Growing up in a Haitian household, rice and beans were a staple in our house. We literally ate rice and beans just about every day, twice a day sometimes.  Luckily there are a variety of Haitian rice and bean dishes to choose from, so my mom would always switch it up. One classic combo that she always made on a regular was white rice and black bean sauce. We call it a sauce but its really a puree of black beans that are seasoned to perfection to accompany the white rice. As classic as this combo is, Haitian food is very time-consuming to make the authentic way. So I wanted to try making a quick version of the classic Haitian Dish while making it vegan as well.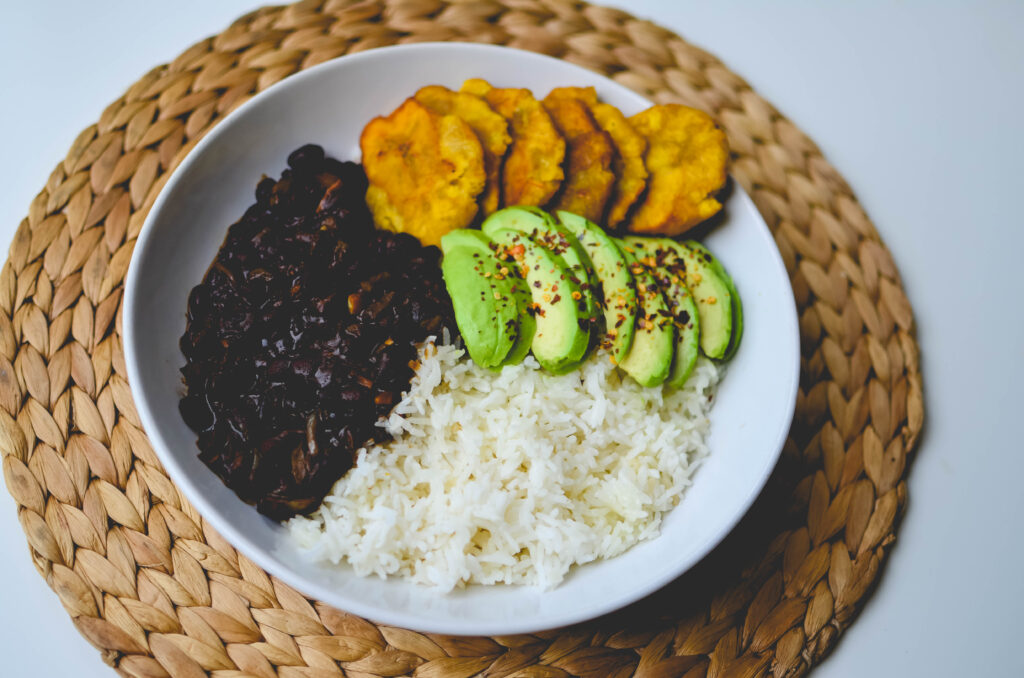 The few short cuts I used was using canned beans instead of dry beans. Which helped cut down the cooking time of this dish tremendously. I skipped the puree part because I personally prefer a thicker sauce then a smooth liquid one. I used half a cube of vegetable bouillon in replace of Haitian Epis.  I also salted the plantains after the double frying with a light sprinkle of salt instead of dipping them in saltwater. With these shortcuts, I was able to make this bowl in about 45 minutes. I paired it with a side of avocado for some creaminess and healthy fat but a side of plikiz would really make this bowl official. Plikiz would provide a nice crunch and spice to go along with the plantains. But till the produce section at my supermarket gets back to normal, this Haitian Style rice bowl will have to do. Check out the recipe below:
Quick Vegan Haitian Style White Rice, Black Bean Sauce and Fried Plantain Bowl( Diri Blan, Sos Pwa Noir ak Banan Peze)
White Rice, Black Bean Sauce and Fried Plantain a classic Haitian dish made vegan and quick( Diri Blan, Sos Pwa Noir ak Banan Peze)
Ingredients
Quick Vegan Haitian Style White Rice, Black Bean Sauce and Fried Plantain Bowl( Diri Blan, Sos Pwa Noir ak Banan Peze)
White Rice (Diri Blan)
1

cup

White Rice

2

cups

Water

2

stems

of Scallions

1

tbsp

Olive Oil

1

small

Scotch Bonnet 

optional
Black Bean Sauce (Sos Pwa Noir)
1

15oz can

Black beans

(drained)

3

cloves

Garlic

(minced)

1

small

Shallot

(diced)

½

small

Onion

(diced)

½

cube

Vegetable Bouillon cube

(crumbled)

1

tbsp

No-salt seasoning

(optional)

2

tbsp

Olive Oil

1

cup

water

salt to taste

1

small

scotch bonnet

(optional)
Fried Plantains (Banan Peze)
1

Green Plantain

1

cup

Vegetable oil

Salt to taste
Instructions
White Rice (Diri Blan)
Rinse rice under cold water, removing any particles until the water turn from cloudy to clear. Drain the rice well and set aside. Wash the scallions and scotch bonnet and pat dry. Set aside the scotch bonnet, cut off the tips and root of the scallions. Leave the scallion as is or chop in half to fit your pot.

In a hot medium-sized pot add a tablespoon of olive oil, add the scallions to the pot to fry in the oil for about a minute. Add the water and salt and bring to a boil.

Add the rice to boiling water, add the scotch bonnet and let simmer until most of the water has evaporated.

Reduce the heat and place lid on the pot for 15 minutes. Let sit for 5 minutes then serve.
Black Bean Sauce (Sos Pwa Noir)
Dice the shallot and onion and mince the garlic. Drain the black beans and set aside.

Heat the olive oil in a large pot over medium heat. Sauté the onion, garlic, and shallot until golden.

Add the beans, half of a bouillon cube, salt, no salt seasoning to the pot, and mix thoroughly for about 3 minutes.

Add a cup of water to the pot, if you want more sauce add enough water to cover the beans and stir all the ingredients. Add the scotch bonnet and let cook for 15- 20minutes.
Fried Plantain (Banan Peze)
Score the seams of the plantain with the tip of the knife and peel the plantain, cut into 1 inch diagonal slices.

Add the oil to a small fry pan on medium-high heat and fry the plantains for about two minutes on each side

Remove the plantains from the oil and flatten with a plantain press or two plates. (Placing the plantain on the first plate and using the bottom of the second plate to flatten the plantain as best as possible.)

Re-fry the flatten plantains in the oil till golden brown. Let sit on a paper towel-lined plate and lightly sprinkle salt.
Happy Cooking!