I've never met a taco I didn't like! But I also never really venture too much outside of what I'm not used to. I've tried many vegan and plant-based food but when it comes to tacos I don't go out the black bean spectrum of tacos. I'm a creature of habit and when I love something I stick to it. So when I ventured out and whipped these chipotle lentil plantain tacos up I was amazed at how good these were and mad that I didn't make these sooner. What I love about these tacos is that a majority of the ingredients are general non-perishable pantry items. So this recipe works well whether you're planning a festive vegan taco night or simply stretching out your next grocery run.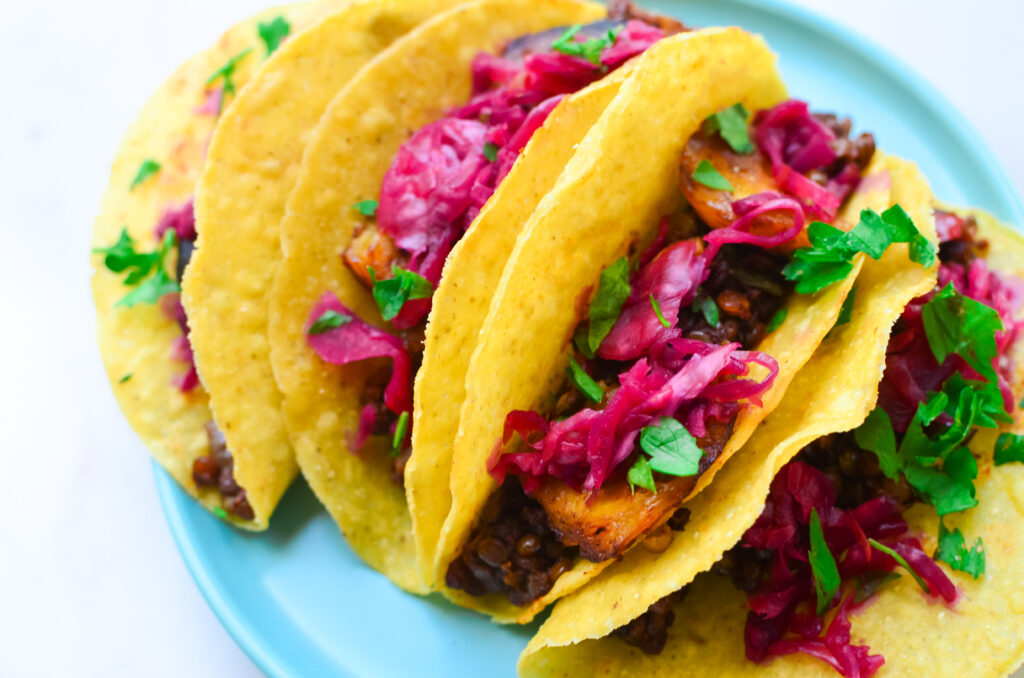 Here's what you need for the tacos:
Green Lentil– Often called French Lentils, they hold their shape during the cooking process so these lentils won't turn into mush like the other varieties.
Ripe Plantains- Green plantains won't do for this recipe since it would be crispy and starchy when fried. Wait a few days as for your plantain to ripens if need be. The sweet caramelized taste of the ripe plantains when fried gives a nice sweet balance and contrast to the spicy smoky lentils.
Tortilla– Hard or Soft, you choose but I decided to go with corn hard shells for an added crunch factor.
Can of Chipotle Peppers in Adobo sauce– The major component of the tacos, the smoky, spicy, and tangy flavor of the peppers and the adobo sauce flavors the lentils so well.
Tomato Paste: The concentrated tomato flavor gives a nice umami-ness to the lentils and chipotle pepper with little to no effort and it adds color to the lentils.
WildBrine Red Beet and Cabbage Kraut– The subtly sweet and tangy flavor of the beets and red cabbage kraut pairs well as a "slaw" on these tacos. I love that its not overpowering or super brine tasting like regular sauekraut but rather tangy from the hints of pear and ginger. The kraut gives an earthiness, sweetness, and a beautiful vibrant color while giving a dose of freshness and fermented natural probiotic goodness that always a good thing in my book!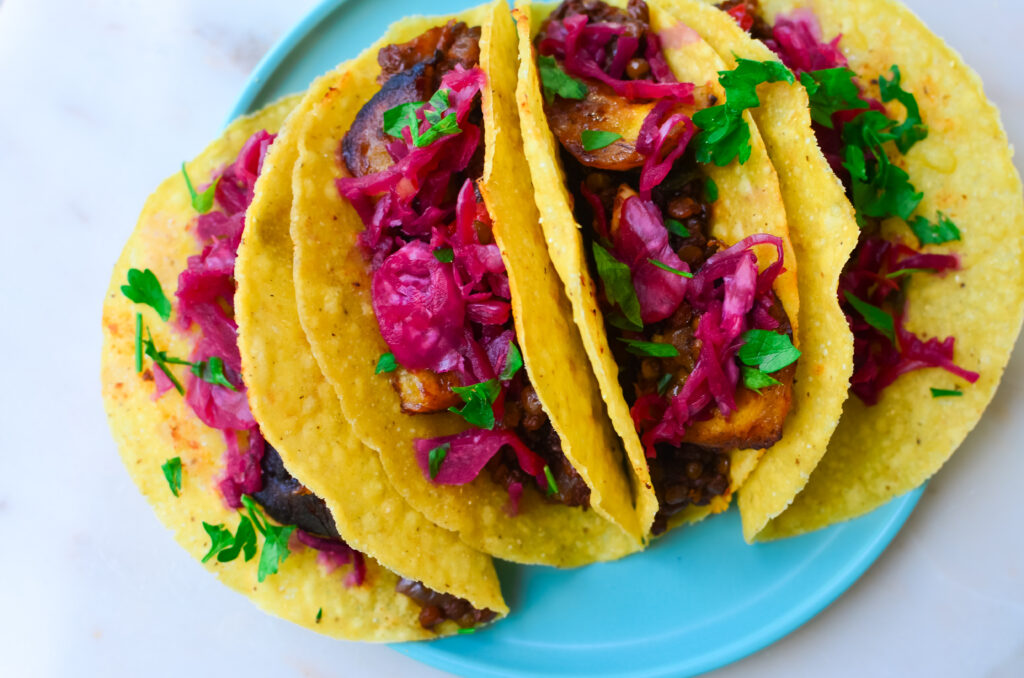 Add in a few kitchen staple basics like onion, garlic and a bay leaf and you are in for the best vegan taco night ever! You really can't go wrong with this recipe and you really can't eat just one of these tacos. I hope you enjoy them as much as I did, Check out the recipe below.
But before you go, I teamed up with WildBrine to do a special giveaway for one of my lucky readers! Enter to win a WildBrine prize pack filled with goodies, merch, and coupons to try out their amazing line of products. The rules to enter are as follow:
The giveaway ends September 4th at midnight. The winner must live in the United States.
Vegan Chipotle Lentil and Plantain Tacos
Spicy Chipotle Lentil and Sweet plantains are the stars of these tacos. Layer in some red beet and cabbage kraut and these make the perfect plant-based tacos for or Taco Tuesday or Meatless Monday
Ingredients
1

medium to large

Red Onion

diced

4

cloves

Garlic

minced

1

cup

French Green Lentils

2½

cups

Water

¼

tsp

Oregano or  1 bay leaf

½

cup

Tomato Paste

2- 3

Chipotle Pepper in adobo

1-2

tbsp

Adobo sauce from can

1-2

Ripe Plantain

4

tbsp

Vegetable Oil

8-12

Corn Taco Shells

1

tbsp

Red Pepper Flakes

(Optional)

4

tbsp

Wildbrine Red Beet and Cabbage Kraut

1-2

pinches

Salt

to taste

Fresh Cilantro

to taste
Instructions
Chipotle Lentil
Pour olive oil to a medium to large shallow pan on medium heat. Run the dry lentils under water removing any particles. Drain, dry, and set aside.

Add the minced garlic and red onion and let sweat on medium to low heat so the red onion can caramelize.

Once the red onion is softened add the lentils and toast them for about a minute. Continuously moving the lentils around the pan.

Add 2cups of water and salt and let cook for about 20 minutes

Open a can of chipotle peppers and add 2-3 peppers to a blender. (If you want less heat, remove some of the seeds from the chili before blending.) Add some of the adobo sauce from the can, tomato paste, and a little bit of water enough so that it can blend.

Pour the chipotle tomato mixture to the lentils and combine them. Let simmer on low while you prep the plantains.
Frying the Plantains
Heat up a small frying pan add a few tablespoons of oil when hot.

With the tip of a knife, make a line down the side lengthways of the plantain and peel.  Cut in a diagonal slice.

Add a few slices to the hot oil and let cook for about 1- 2 minutes and flip and cook for about a minute to two on the other side. Continue to flip till golden brown and soft.

Let rest on a paper napkin and lightly salt.
Making the Tacos
Warm up the corn taco shells as directed on the packaging.

To the taco shells, Scoop 2- 3 spoonful of lentils, 2-3 plantain slices, and a spoonful of WildBrine Red Beet and Cabbage Kraut. Top of with cilantro
Happy Eating!