I believe the best granola is the one that is filled with your favorite mix-ins. So for me making my own granola is truly ideal for me since I can control what goes in it. Sure, making traditional granola from scratch is a bit time consuming but stove top granola gives you all the feels but with half the effort. This Olive Oil Honey Granola with Coconut and Pumpkin Seeds recipe comes together in less than 10 minutes and is packed with delicious vanilla and cinnamon notes. Its super easy to make and convenient for weekday breakfast or for a brunch. The best thing about this recipe is that the toppings are interchangeable to your liking and you can make a small batch enough for 3 to 4 servings. Choose your choice of fat, sweetener, mix-ins and spices and you have an easy formula for homemade granola.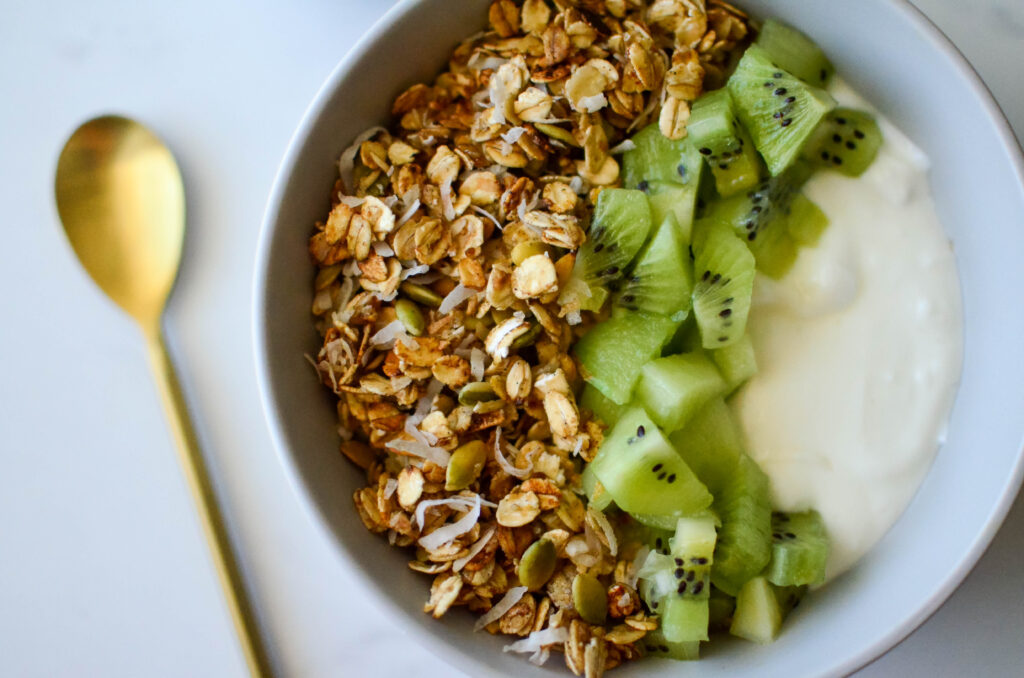 For this recipe my formula is:
sweetened shredded coconut
The grassy taste of olive oil gives the granola a nice complexity when paired with the honey and vanilla paste. Cinnamon gives the right amount of warmth and deliciousness that granola is known and salt to bring out the flavors. I chose sweetened coconut and pumpkin seeds because these are my favorite nut-free mix-in but the possibilities are endless.
Check out the recipe below:
Olive Oil Honey Granola with Coconut and Pumpkin Seeds (Stove Top)
10 minutes is all you need for this stove top Olive Oil Honey Granola with Coconut and Pumpkin Seeds.
Ingredients
Granola Ingredients
1¼

cups

Rolled Oats

3

tbsp

Sweetened Coconut Shreds

2

tbsp

Pumpkin Seed

3

tbsp

Honey

1

tbsp

Olive oil

½

tbsp

Vanilla paste or extract

pinch

of Salt

½

tsp

Cinnamon
Instructions
Add one tablespoon of olive oil to a medium-sized skillet fry pan and turn the heat up to a medium heat.

When the oil is hot enough, add 2 tablespoon of honey, vanilla paste and salt and mix evenly.

Add the oats and combine evenly with the honey mixture, keep moving the oats around the pan so that it doesn't burn.

When the oats starts to toast up a bit add the pumpkin seeds and shredded coconut. Keep moving everything around the pan for about two minutes. Add the last tablespoon of honey and cinnamon and combine evenly and move around the pan for about two to three minutes. Once you get the desired color you want and taste, remove from heat and let cool.
Happy Cooking!