Calling all French Toast Lovers! Especially the lovers who love it but can't get past the strong egg taste! This one is for you!
My Cinnamon Vanilla French Toast recipe is one that I'm so excited to share because this has been an ongoing issue for me. I love french toast but I dislike eggs no matter how you make it. Though eggs is just a single component of what makes french toast, it can sometimes end up being the star of it. I never realized that until I started going out for weekly brunches. I would order French toast at various restaurants and would be so turned off by the overbearing egg taste that I avoided ordering French toast completely for a few years. Until I came across an egg-less version at a local restaurant and fell in love. The restaurant's french toast was chia-based which to me wasn't the best visually but at the root of it all the french toast was vegan.
I don't know why I waited so long to make vegan french toast but this solves all my french toast issues. It's super easy to make, and taste more flavorful than the egg version. These Cinnamon Vanilla French Toast taste great with berries and maple syrup but also as an on-the-go sandwich with a few veggie breakfast patties in between them with syrup on the side to dunk. So if you're a french toast lover, love cinnamon and vanilla, you're going to love these!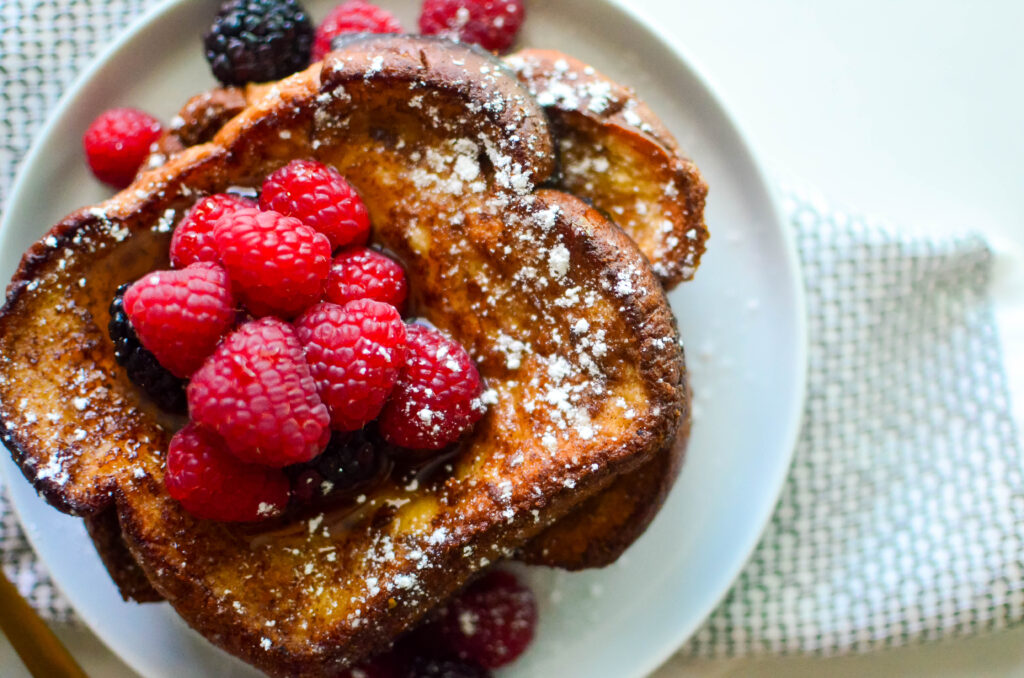 Here are the main components that you'll need:
Thick Sliced Bread– The top three bread of choice for traditional French toast is Brioche, Baguette, and Challah. Find your favorite option that's thick enough to hold liquid. Stale bread or day-old bakery bread is best but if you are using bread that is fairly fresh, you can dry out the bread prior to dipping it by baking it for 10-20 minutes. I personally prefer to bake after frying the bread, that way all the flavors are baked in and crisp.
Non dairy milk – Pick your choice of non dairy milk you would like to dip your bread in. For a festive treat replace the nondairy milk with nondairy nog.
Flax-seed- Grind up your flax-seeds in a blender for about 10-30 seconds. Add 2 tablespoons of liquid for every tablespoon of flax. Stir together and let sit for 5 minutes so it thickens up for an "egg-like consistency".
Vanilla Paste or Extract– A tablespoon of vanilla paste or extract will give your french toast a delicious vanilla bean/ vanilla flavor. Dipping your bread in unsweetened vanilla flavored milk can give you a nice added flavor as well .
Cinnamon– The warming smell and taste of cinnamon goes so well in french toast. The aroma is amazing and I love to add copius amounts of it when ever I can but add as much to your liking. If you're not a fan of cinnamon but you want to add a layer of additional spice, a pinch of nutmeg or pumpkin spice would be a great addition.
Check out the recipe below:
Vegan Cinnamon Vanilla French Toast
Love French Toast but dislike the eggy taste? Try this delicious and flavorful Vegan Cinnamon Vanilla French Toast at your next weekend brunch.
Ingredients
2

cups

Plant based Milk

2

tbsp

Flax-seed

(ground)

1

tbsp

Maple syrup

(optional)

1

tbsp

Vanilla extract or paste

½

tbsp

Cinnamon

¼

tsp

Nutmeg

10

slices

Bread

Pinch

of

salt
Instructions
Preheat the oven to 350 degrees. Line a baking sheet with parchment paper

In a medium bowl, Add the plant-based milk and flaxseed and let sit for about 5- 10 minutes to thicken up.

Stir in the cinnamon, nutmeg, salt,and maple syrup and whisk to evenly combined

Heat a medium-size skillet on low to medium heat. Add a teaspoon of butter or oil. Dip the bread in the batter for about 5 seconds and flip to coat the other side for 5 seconds.

Fry the bread for about 2 to 3 minutes and flip and do the same to the other side. Place the bread on the lined parchment. Repeat until every toast is fried.

Bake for 10 minutes for the toast to crisp up. Top with powdered sugar, fruits and syrup and serve immediately.
Happy Cooking!